About Jemison Heating & Cooling, Inc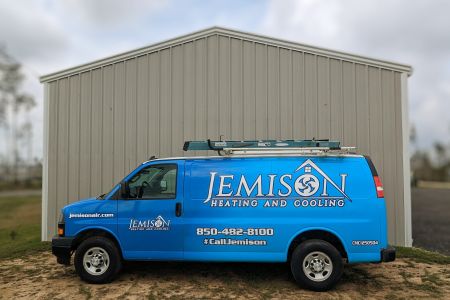 How We Started
Jemison Heating & Cooling began, like many HVAC businesses, as a one-man crew in August of 2002 by our owner David Jemison. David began the business in Altha, FL and built his first office there. Over the last 20 years the business has seen positive growth each year and continues to forge ahead in the markets we serve. We relocated our main office in July of 2021 to Marianna, FL, and are proud to make Jackson County our new base of operations. Today, we have a team of technicians and office personnel who look forward to providing each customer with quality and customer satisfaction.
Our Promise To You
Mission & Vision:
Our philosophy is very simple: when customers & employees win, our company wins! We strive every day to provide our customers the service they should expect from a professional air conditioning company, and we equally strive to provide an atmosphere where the best & brightest employees can achieve their dreams. We want to be known within the communities we serve as the "Go-To" company for heating & cooling, and this can only be realized when our customers & employees are satisfied!
Core Values:
Customers Will Never Love a Company Until the Employees Love it First! At Jemison Heating & Cooling, we understand the success of any company starts and ends with its employees and their understanding of our "Core" Values.
Integrity. Acting with strong ethics is a priority for everyone representing the organization as well as the company's behavior as a whole.
Honesty. It's not just the best policy. It's a core business practice to act in a transparent, trustworthy manner that earns the respect of colleagues, customers, and the public.
Quality. Companies are judged by the craftsmanship of their products and services, so the highest standards must be maintained.
Fairness. Treating everyone with the common decency we all deserve and expect.
Accountability. Accepting responsibility for your actions (and inactions) is the ultimate way to build trust internally and externally.
Promise to Customers. Creating a great customer experience begins with staying true to the words we speak and the bonds we make.
Diversity and Inclusion. Organizations succeed by bringing different lived experiences and a range of backgrounds into a shared environment where everyone has equal opportunity.
Learning. No one has all the answers. A culture of humility and continuous learning is a bedrock principle of successful companies.
Teamwork. When people work together, they can create something greater than themselves as individuals.
Passion. Having a joy not just for the work itself but also the people around us, so that everyone can be bold, innovative, and creative.